Why Invest In The Alexandra Park Real Estate Market?
Alexandra Park is one of the most vibrant neighbourhoods in Toronto that is surrounded by Dundas West to its north, Queen West to its south, Spadina to its east And Dundas to its west. One of the unique factors about the neighbourhood's borders is that they are all major thoroughfares and as a result, residents have access to world-class transportation. Alexandra Park used to have multiple low-rise houses but today the condo market has taken over as a result of the increasing demand. The neighborhood got its name from a municipal park that goes by the same name which is located at Dundas and Bathurst Street's south-east corner. This park in turn was named after Queen Alexandra who was the wife of the first monarch who visited Toronto, King Edward VII. Alexandra Park lies in central Toronto within the downtown Core and thanks to its prime location, it is in close proximity to some of the most vibrant neighbourhoods in Toronto. Thanks to this, the neighbourhood is ideal for working professionals who would otherwise have to spend much more time commuting. Toronto has seen exponential growth in terms of real estate prices each year and investing in a condo townhome here can amount to a large sum in a few years. Be it for your own use or for investment, buying a new condo townhome in Toronto is always a lucrative option and having one in the downtown core makes it all the more worth it!
List of New Townhomes in Alexandra Park
View More
New Townhomes In Alexandra Park And Reasons To Buy
One of the main advantages of living in Alexandra Park is that most of the iconic places in Downtown Toronto such as Chinatown, Fashion District, Entertainment District and Kensington Market are all easily accessible from here. The area also features an excellent walk score and as a result almost everything is available within a few steps. The neighbourhood is vibrant and features a plethora of shopping, dining and entertainment options. The Fashion District which is also known as the Garment District was an iconic place which was home to multiple fabric production industries in Toronto. On the other hand, Chinatown is the best place to shop for home supplies as well as exotic spices and fresh produce. Kensington Market in the area has a very bohemian and colorful vibe with multiple cafes and bars. You will also witness several street performers in the area from time to time. The price of Real Estate in the area rises every year. During the past year, the average home price was $677,490. Alexandra Park is a pleasant and happening place to live in. Investing in condo townhomes in the area will not only guarantee income but also help in generating more revenue as the value of the condo townhomes will keep increasing annually.
What To Do In Alexandra Park?
Alexandra Park is surrounded by some of the most vibrant neighbourhoods in Toronto including The Entertainment District, Fashion District, Chinatown and Kensington Market. Fashion District, formerly known as Garment District has been one of the largest producers of fabric in the city of Toronto. Today it is a dynamic neighbourhood where the streets are lined with restaurants, cafes and bars. The famous Graffiti Alley can also be found here with visitors from all over the world. Another neighbourhood easily accessible from here is Chinatown, which is regarded as one of the best places to shop in the Greater Toronto Area. You can get a hold of exotic spices as well as fresh produce from here and is also the best place to look for home supplies as you get the best deals. Kensington Market is another exciting place to visit and lies to the immediate north of this neighbourhood. This area has preserved its bohemian charm throughout the ages despite the development and changes in the surrounding areas. Last but not the least, The Entertainment District is another exciting place that is easily accessible from this neighbourhood and has several places to visit. This neighbourhood has always been regarded as the spot and hub for nightclubs in Toronto. Today however this area is filled with posh restaurants and a plethora of entertainment options. The Rogers Centre as well as the Air Canada Centre are also located here and can be easily accessed even on foot. Both these stadiums are home to some of the most celebrated professional sports teams including the Maple Leafs, Blue Jays and the Toronto Raptors.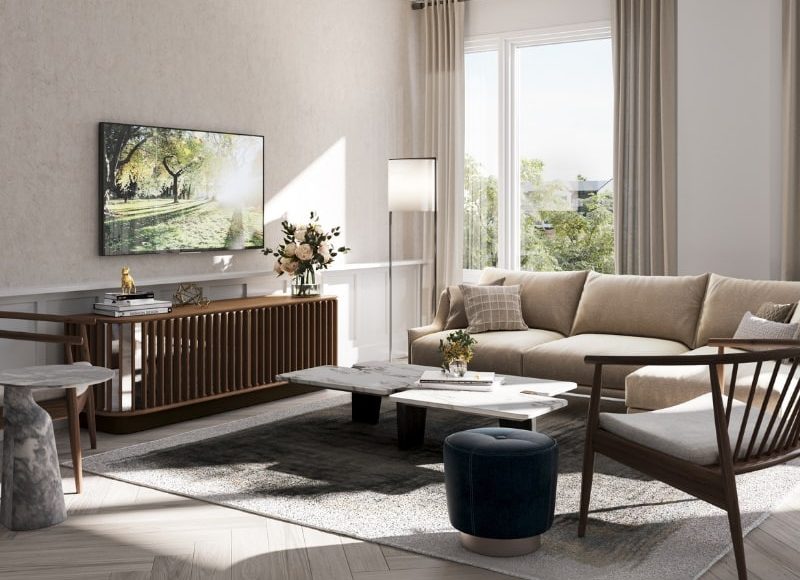 Average Prices Of Townhomes In Alexandra Park
Although condominiums have already dominated the real estate market in Alexandra Park, townhomes are not far behind and account for 27% of the home sales in the area against 61% which comprises condos. Investing in a townhome here is a good option as it provides you with liberty of having your own place with privacy as compared to condominiums. Townhomes also provide the feeling of having your own place right in the downtown core of the city. The average prices for homes was seen at $677,490 in the previous years which can be split up into an average price for condos at $606,842 along with an average freehold price of $1,299,200.
Transit And Accessibility in Alexandra Park
Alexandra Park offers world-class transit services as it is bordered by some of the major thoroughfares in Toronto including Bathurst Street, Queen Street, Spadina Avenue and Dundas Street West. Streetcar services available here as its bordering streets happen to be inner city thoroughfares. A few minutes of walk from this neighborhood takes you to multiple subway stations such as the St. Patrick station and Osgoode which are a part of Line 1 Yonge-University. This line covers the financial district and goes all the way to Vaughan. Riders too are in for a treat thanks to the Gardiner Expressway which connects to other highways such as Queen Elizabeth Way, Don Valley Parkway and Ontario Highway 427. The presence of these highways and public transit options make commuting a walk in the park for everyone in the neighborhood.