Investing in Brantford Real Estate
Brantford is a beautiful and affordable area with quick transportation access, proximity to major schools, and a strong manufacturing base. While up and coming, real estate costs have taken a while to experience the rising prices of other cities. However as of January 2021, prices for homes have increased by about one third, and look to continue their rise in time. Pre-construction Condos in Brantford are being developed in the city's downtown, solidifying a demand for apartment-style homes. Tourism is based on monuments and celebrations of Canadian heritage. It is filled with monuments and statues. From memorials to those who fought in the world wars, or to Hockey player and Stanley Cup winner Wayne Gretzky, to more organic art pieces. Brantford has a lower unemployment rate than the national average, experiencing a smaller increase in unemployment from the effects of Covid-19 as compared to other cities of a similar size. And for a city of its size, its vacancy rate of below 3% means that rental properties will be in demand, allowing for higher rent rates to be charged. The majority of Brantford permanent residents are of European or North American origin. Their average age is 40, but an even distribution of population all the way from 0 to 49, peaking at the 50-54 bracket. A lot of youth come into the city to stay as part of their school, and local businesses try to keep them fresh out of graduation. However, the student population does not make up the majority of the population there. Many live and work there in manufacturing or other trades-based jobs.
List of New Condos in Brantford
Why Invest in Brantford Real Estate
Investing in Brantford Real Estate for the purposes of renting means purchasing pre-construction condos that have an almost guaranteed chance of being filled for rent, and this is made possible due to the city's low vacancy rate of below 3%. In the 2016 Canadian census, about 32% of people living in Brantford were renters. Brantford's aesthetic beauty and focus on heritage makes it an ideal tourism spot, where visitors can enjoy museums, sights, and activities. This also means a steady flow of income for the city. Brantford is expected to grow rapidly, having experienced a steady growth rate of 13% since 2001, and expected to reach more than 180,000 in 25 years. The influx of students as its 'university town' aesthetic develops brings in increased economic value and general demand to go to the city, as young professionals join the ranks to participate in what entrepreneurship arises naturally from the proximity to major universities. With renters making up almost 1/3rd of the living population in 2016, the increasing popularity of the city as a university town will increase this number, and the opportunity for investment profits out of renting. Brantford has also received recognition from major publications. The magazine Site Selection recognized Brantford among 20 areas that represent ideal investment opportunities, based on corporate investment and job creation coming out of that. In 2019, Maclean's magazine placed Brantford as one of the top communities of Ontario.
Employment in Brantford
Brantford has a low unemployment rate compared to the province at 5.7% as of August 2021. Its peak was close to 7% during the height of the pandemic, and has been lowering ever since. Brantford provides a variety of careers for those living or renting there, with a mix of manufacturing, television, warehouse logistics and food & beverage. The city provides employment opportunities for people of various levels of education, allowing its local university population to engage in highly specialized work. Brantford's manufacturing center provides a lot of employment. The top employer is Ferrero, employing 900 people on its location. There are other manufacturing employers spread throughout Brandford, often with half or fewer the number of employees as the chocolate producer. It also is host to other food and beverage manufacturing companies, with the industry employing roughly 2300 people across a variety of companies. It also features an advanced manufacturing industry, whose focuses are on automotive manufacturing and automation. Their proximity to leading universities allows these companies to tap into the fresh knowledge base of student graduates in related firms, building relationships with the student locals to form more permanent bonds. Currently, the largest one is Apotex Pharmachem. Lastly, Film and Television also have a foothold in Brantford, with an increasing number of studios choosing to film in Brantford for their projects. Brantford dedicates effort toward encouraging more projects to take place on their grounds.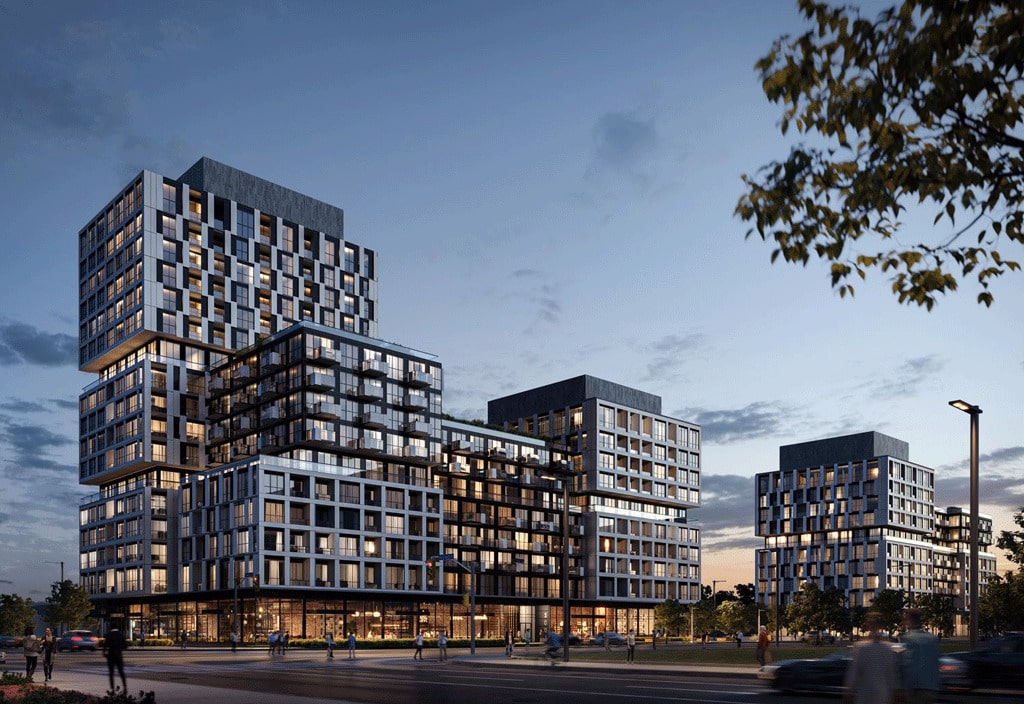 Average Prices for New Condos in Brantford
As of July 2021, the average price for new condos in Brantford is $447,750. These prices vary from $406,667 in the more rural-facing Ward 2 to $595,767 in Ward 3 where the urban core of Brantford resides. Although Pre-construction Condos in Brantford see less development activity than detached homes, they are still close to a quarter of development in the most urban wards of Brantford.
Transportation and Accessibility
Brantford is near Highway 403, giving quick access to major lines to other large economic centers. For those without car access, public transit busses are available throughout the city, and lead to GO Bus lines and a VIA Rail station that provide public transport routes to Toronto and other major cities in Canada. The city is also working toward the creation of and improvement upon walking and cycling routes throughout the city to reduce traffic. The Hamilton airport is also nearby for flights. This access to public transit and emphasis on developing non-driving transportation paths makes Brantford an ideal place for new condos, which tend to gravitate toward the more densely urbanized core of the city. When taking the highway, it takes about an hour to drive to either Niagara or Toronto, making for a reasonable commute if working outside of town. Specifically, about 40% of the town's population take 15 minutes or less to get to work, close to 30% take under half an hour, and another 30% take between 30 minutes to over an hour.