Investing in Aurora Real Estate
Aurora is located on the west of Highway 404, north of Richmond Hill and south of Newmarket. The city of Aurora is in the York Region, part of the Greater Toronto Area. There are currently 60,000 residents in Aurora, but that number is expected to reach nearly 70,000 by 2031. It has grown into a thriving urban center while retaining an atmosphere of a small town in Southern Ontario. The Ontario Places to Grow Act offers a lot of opportunities for the town to grow, despite it being a small one. In the vicinity, plenty of established neighbourhoods can be found, from large homes to large bungalows, as well as new condominium buildings that are adjacent to job centers and retail outlets. There are many business opportunities in Aurora, which generate jobs and attract investors. Aurora is a great choice for those who are looking for a home near their place of employment. Residents can take advantage of the town's numerous recreational opportunities, including 700 acres of woods and natural areas, as well as 40 kilometres of parks and trails, golf courses, and recreation centers. Residents who want to live in a small town without leaving the GTA should invest in a new townhome development in Aurora. Aurora is home to more than 2,200 businesses, including many major firms that create a diverse economic base. The town of Aurora has a rich culture, history, and arts, and a number of historical sites and cultural centres.
List of New Townhomes in Aurora
New Townhomes in Aurora & Reasons to Buy
There are many housing options available in Aurora, and the availability of these options will propel residential growth in the city. Aurora is known for its frequent celebrations and family-friendly spaces. The community organizes several events, including an annual Home Show with more than 500 vendors and live entertainment, Easter Egg Hunts, Arctic Adventures, Farmers Markets, and Street Festivals. During various holiday seasons, there are several events popular with children, such as the Santa Under the Stars Parade, Family First Night, and Haunted Forest. The town of Aurora is also a family-friendly area due to its many schools. There is a range of excellent schools available to homebuyers with children, from public schools to private schools and even Catholic schools. In Aurora, schools are operated by York Region District School Board (YRDSB) and York Catholic District School Board (YCDSB). There are 13 schools in the YRDSB, including ten elementary schools and three secondary schools, while there are seven schools in the YCDSB, which includes six elementary schools and one high school. The city of Aurora is part of the York Region, which has the fastest growth rate in the GTA. Due to the growing population of Aurora, many businesses have come into the area, offering many opportunities for real estate investments, such as buying a new townhome in Aurora.
What To Do in Aurora
Aurora is a small town that has transformed into a bustling urban area while still maintaining charm and character. Investing in new townhome developments in Aurora offers residents access to many town facilities, natural areas, jobs, and schools. The trails in Aurora are popular with a variety of visitors, from joggers to cyclists to skiers and dog sledders. At the Stronach Aurora Recreation Complex, residents can skate year-round, making it a popular activity for them. The city also has four other skating rinks, including Confederation Park, Aurora Family Leisure Complex, Machell Park, Town Park and Ada Johnson Park. At the Aurora Seniors' Center, elderly community members can enjoy a range of amenities that keep them active, including an outdoor bocce ball court, a computer lab, a terrace on the Aurora Arboretum, and a woodshop. Building communities has continued over the years without showing any signs of decline. The municipality proposes to develop mixed-use developments along Wellington and Yonge streets to create a pedestrian-friendly, arts- and culture-oriented destination. An Aurora Cultural Centre will help pave the way for the development along the town's Main Street and will include art galleries, museums, performance venues, and much more. The community has many recreational facilities, green spaces, jobs, and schools, so you can take advantage of these amenities when you buy a new townhome in Aurora.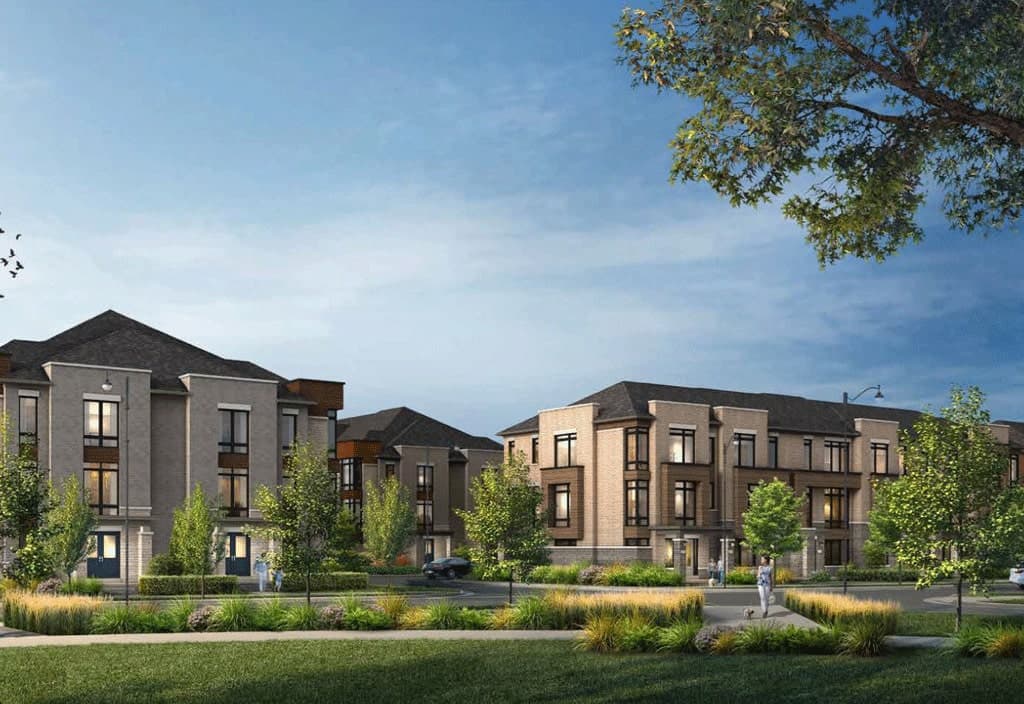 Average Prices for Townhomes in Aurora
The average price of all homes in Aurora, including new townhomes, was $1,270,841 so far this year, according to TREB data. In the York Region, the average cost of a townhome is $1,037,692. Townhome prices in the York Region are higher than the GTA average price of $949,983. The average listing price for a townhouse in Aurora is $1,000,015 in 2021, and it takes an average of nine days for it to sell. On average, townhomes in Aurora cost less than those in York Region. Townhome prices in this area are, however, higher compared to other parts of the Greater Toronto Area. The benchmark price for a townhome stands at $832,200, a change of 38.01% from the last year. A new townhome development in Aurora can be a smart investment because the surrounding area is a hub for several sectors, such as retail, manufacturing, auto parts, and printing. The town is also located near leading economic hubs such as Richmond Hill and Markham and can be easily reached in less than 30 minutes. Toronto's Financial District is also nearby and is easily accessible within 40 minutes.
Aurora Transit & Accessibility
Public transportation is readily available in the city, and highways are easily accessible. The GO Transit train system is also available through this area, and Highway 404 makes it easy for residents of this area to reach other parts of the GTA. There are several routes within Aurora that are served by the York Regional Transit system, and the rapid transit system, Viva Blue, connects Aurora to other areas in York. Aurora residents can take the Viva Blue route through the York Region, from the Finch GO station to the Newmarket terminal. Aurora GO Transit station is located along the Barrie GO Transit Line, so locals have easy access to travel throughout the GTA. In peak hours, GO trains travel from Aurora to Toronto every 15-20 minutes. During peak evening hours, trains operate every 30 minutes to Barrie and Aurora. GO Transit has created a Regional Express Rail Plan that is dedicated to enhancing transit services in the region. By 2024, there will be trains running every 15 minutes between Toronto and Aurora on weekends. A switch to electric trains will also be made on the Barrie-Toronto route. The town of Aurora has made numerous changes to its facilities to prevent and remove barriers to accessibility to comply with the Accessibility for Ontarians with Disabilities Act (AODA). For those who prefer to live in the suburbs but want to experience all the luxuries of a city, a new townhome development in Aurora is the perfect option.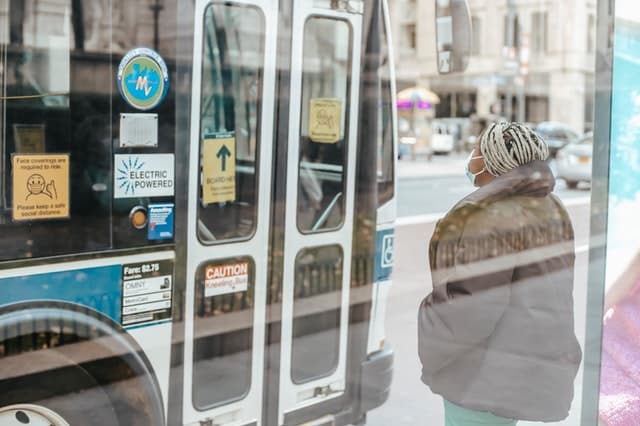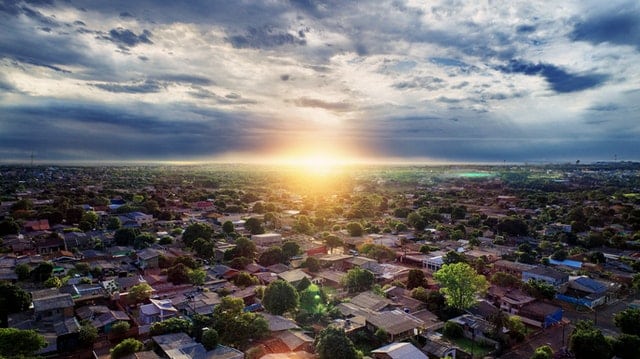 Neighbourhoods in Aurora
The Aurora district comprises ten neighbourhoods, each with its personality and characteristics. You can begin your search for new townhomes in Aurora in the neighbourhoods of Aurora Village, Bayview Wellington, Bayview Northeast, and Aurora Northeast. Aurora Village is home to the town's Main Street, where residents can shop, dine, or attend community events. Yonge Street runs through Aurora Village, making it a heavily travelled through area. Aurora Village is a perfect home for families as there are many community amenities and schools at reach. There are many homes in the area ranging in architectural style from Victorian to Georgian style homes, and there are also many townhome communities. Aurora Village residents can easily access public transit and are less than 10 minutes away from the nearest highway. East of Aurora Village is the neighbourhood of Bayview Wellington, which is located at the intersection of Wellington Street and Bayview Avenue. Bayview Wellington has a mix of homes from newly developed detached homes, condominiums, and townhomes. Living in this neighbourhood will give you easy access to public transportation, major roads, recreational facilities, and shopping centres. Directly east of Bayview Wellington is Bayview Northeast, a newly developed, family-friendly neighbourhood. The Bayview Northeast neighbourhood is situated on the intersections of Wellington Street and Leslie Street and has convenient access to Highway 404. This neighbourhood is home to many new developments, from single-family homes to new townhomes. Residents living in the neighbourhood have easy access to the town's industrial area with many job opportunities and access to green spaces and nature trails to hike through. Another newly developed and urban neighbourhood to see is Aurora Northeast, which is located at the border of Aurora to the towns of Newmarket and Whitchurch-Stouffville. Aurora Northeast is home to master-planned communities, making it a perfect place to search for new townhomes in Aurora. Aurora Northeast is similar to its neighbour to the west, Bayview Northeast, as residents have easy access to the town's industrial area, green spaces, recreational centres, commercial areas, and Highway 404. The following neighbourhoods are great places to start your search for a new townhouse in Aurora.