Bradford's Burgeoning Real Estate Market
Bradford, a small rural community in the Simcoe region north of the GTA, is growing rapidly. Its population has increased by 30% between 2011 and 2016, which is far faster than the provincial average of 4.6%'. The majority of people in Bradford are under 40, particularly young professionals and their children, making the city's average age 36.5, about 5 years younger than the province as a whole. Pre-construction condos in Bradford are in high demand due to this exceptional population boom, especially in the vicinity of the upcoming 400-404 interlink highway, which will link the two freeways and give people in the area easy access. Bradford is seeing a surge in economic activity as companies relocate from the GTA to the up-and-coming town, where commerce and employment are well facilitated by a robust transit network that has been in place since before the city's dramatic growth. This transit is being stretched even further with the construction of a freeway to connect highways 404 and 400, which will run through the town's northern perimeter and offer people with rapid access to either. Unlike other towns that struggle to reconcile their rural and urban identities, Bradford is able to maintain its rural town aesthetic and sense of community while also providing urban amenities such as a diverse range of schools, recreation and leisure centres, and other small-town amenities such as malls. The city continues to invest in parks and transit infrastructure in order to attract new inhabitants, with the ultimate objective of offering all of the services and amenities required for residents to never feel compelled to travel to the GTA for something they can't get in town.
List of New Condos in Bradford
Why Invest in Bradord's Real Estate Market?
The Greater Toronto Area has experienced an outflow of people leaving its most populous cities to settle in communities like Bradford, which can offer small-town experiences while still within driving distance of Toronto. Bradford is preparing to capitalise on these demographic transitions by increasing its infrastructure to allow for the rapid construction of new commercial, industrial, and real estate complexes. Rather than constructing non-housing suburbs where residents would be forced to go to work in other cities, the municipality wishes to encourage businesses to move in and entrepreneurs to use their land to start businesses. Bradford is still a work in progress in this area, but it does have a sound development plan in place that includes working directly with potential investors to assist them get the most out of this site. The construction of a freeway connecting the two major roads 404 and 400 is one example of this plan in operation. Businesses will be strategically situated near motorways and the linking freeway while new residences are built in Bradford, with a 95-acre industrial and commercial property zone being formed by them. Bradford's presence of various schools, as well as numerous parks that the municipality is actively developing, combined with these business aims to make it a not-too-distant future metropolis.
Working In Bradford
Bradford's primary goal as a municipality is to facilitate industrial and commercial development that can keep up with the influx of new residents, allowing them to live and work within the city limits. The town has a thriving economy and a rapidly expanding workforce that is versatile and diverse. Bradford offers a vast acreage of zoning suitable for commercial and industrial use to current and future business investors. The Reagans Industrial Park, 5 minutes from Highway 400, is the most prominent of these land offerings, with the town offering grants and working personally with all businesses interested in developing on this zoned land. Construction and manufacturing, which employ 2500-3000 people each, are currently the two largest industries in the city. Because of the numerous developments of residential, commercial, and industrial land, construction is the industry that employs the most people. Demand for these new homes and businesses increased the number of construction jobs in the town by 50% between 2011 and 2016, and the industry will continue to thrive as a result of the influx of residents and improvements to transportation infrastructure. Retail, healthcare, lodging, and a significant portion of the employment pie dedicated to service, financial service, professional and technical services as industries rising by up to 50% to meet the needs of the town's growing population are the industries following them.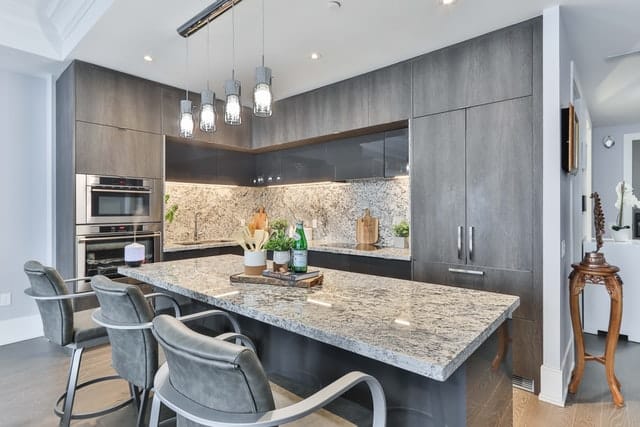 Average Prices For Condos In Bradford
From 2016 to 2021, home prices in the Simcoe region covered by the Barrie & District Association of Realtors increased by 270 percent. Bradford is the Simcoe region's closest town to the GTA, boosting its rising worth even further. Currently, pricing for new condos in Bradford can range from $284,000-$478,000 and can be expected to go higher as new pre-construction condos in Bradford reveal their prices.
Getting Around in Bradford
The Town of Bradford recognises the critical nature of a robust transportation infrastructure in order to enable the planned development of houses, the services necessary to support them, and the businesses necessary to employ them. GO Transit provides rail and bus service, connecting the town to bigger urban centres such as Barrie and Toronto, while the GO bus connects residents to the diverse smaller settlements that dot Ontario. These large public transit hubs also provide convenient access to a range of colleges and institutions around Simcoe and the Greater Toronto Area, with Barrie and Toronto both housing vibrant schools that are not far from those with rapid access to the GO station. BWG Transit is Bradford's public transportation system, with buses connecting neighbourhoods to major hubs like the Reagans industrial park, the GO station, and a variety of other downtown locations. Finally, and perhaps most significantly, Bradford is creating a motorway connecting highways 400 and 404, dubbed the 400-404 interlink expressway, that will pass through the town's urban core, allowing inhabitants with quick and easy access to either major transportation line.