Why Buy a New Townhouse Development in Toronto
As one of the premier cities in North America, Toronto boasts one of the fastest-growing and exciting real estate markets, along with a thriving and diverse culture unique among other Canadian cities. The city features a number of different natural environments such as beaches, forests, ravines, parks, and rivers. With a population of over 2.8 million and growing, Toronto is poised to become a leading city in the financial and technological sectors, especially with its focus on recruiting a diverse and expert population into its world-class education system. The city has three major universities that attract students from all over the world. Toronto has proven itself to be an incredibly popular location for real estate developers due to the booming population and leading economy. The Toronto Transit Commission (TTC) provides Toronto with bus, subway, and streetcar services that can take you from one end of the city to the other without issue. Additionally, Toronto has one of the most recognizable skylines in the world with the massive CN Tower standing tall above all other buildings and providing a very unique backdrop to the city and a great view for any new developments. With all these features and more, Toronto is the perfect place to shop for a new pre-construction townhouse in 2021.
Toronto Townhouse Investing
Investors, families, and any other prospective future homeowners can see the value in purchasing a new or pre-construction townhouse in Toronto. Having an entrance all to yourself is just one of the many reasons so many new townhouse developments are popping up in Toronto. Townhouses are usually more affordable than comparable properties which makes them great for investors or for people trying to afford a home in the city. Toronto is the perfect place to invest in a new townhouse as it is a world-class city with any amenities you could require within a short distance. With an increasing number of new townhouse developments, people have plenty of freedom when it comes to choosing what features they want and in what area they want to live. Townhouses are often able to be built in more desirable areas such as closer to the downtown core, which means they will be more desirable in the future and appreciate in value nicely.
Working in Toronto
Toronto gives people who work in any industry or sector a chance to live in one of the most diverse, cultured, and fastest-growing cities in the world. The crime rate is much lower than comparable cities like New York City or Chicago which means it is easier to feel safe and enjoy everything the city has to offer. According to a survey done by The Statistics Canada Labour Force, 1.26 million of Toronto's residents are employed, with service industries making up 85% of those jobs. Toronto is placing an emphasis on getting the unemployment rate even lower to below 8 percent. The real estate marketing in the GTA has boomed in the last 10 years and will continue to see exponential growth in sales, new developments, and prices. There should be very little difficulty in acquiring a job in Toronto considering it is host to countless multinational companies in any sector you can imagine including finance, law, arts and culture, fashion, marketing, software development, and just about everything else. Toronto is also home to a consistently busy and growing industrial sector, and with the booming real estate market, there is no shortage of jobs in the construction industry. After-work hours provide a chance to explore Toronto's many world-famous restaurants and entertainment venues.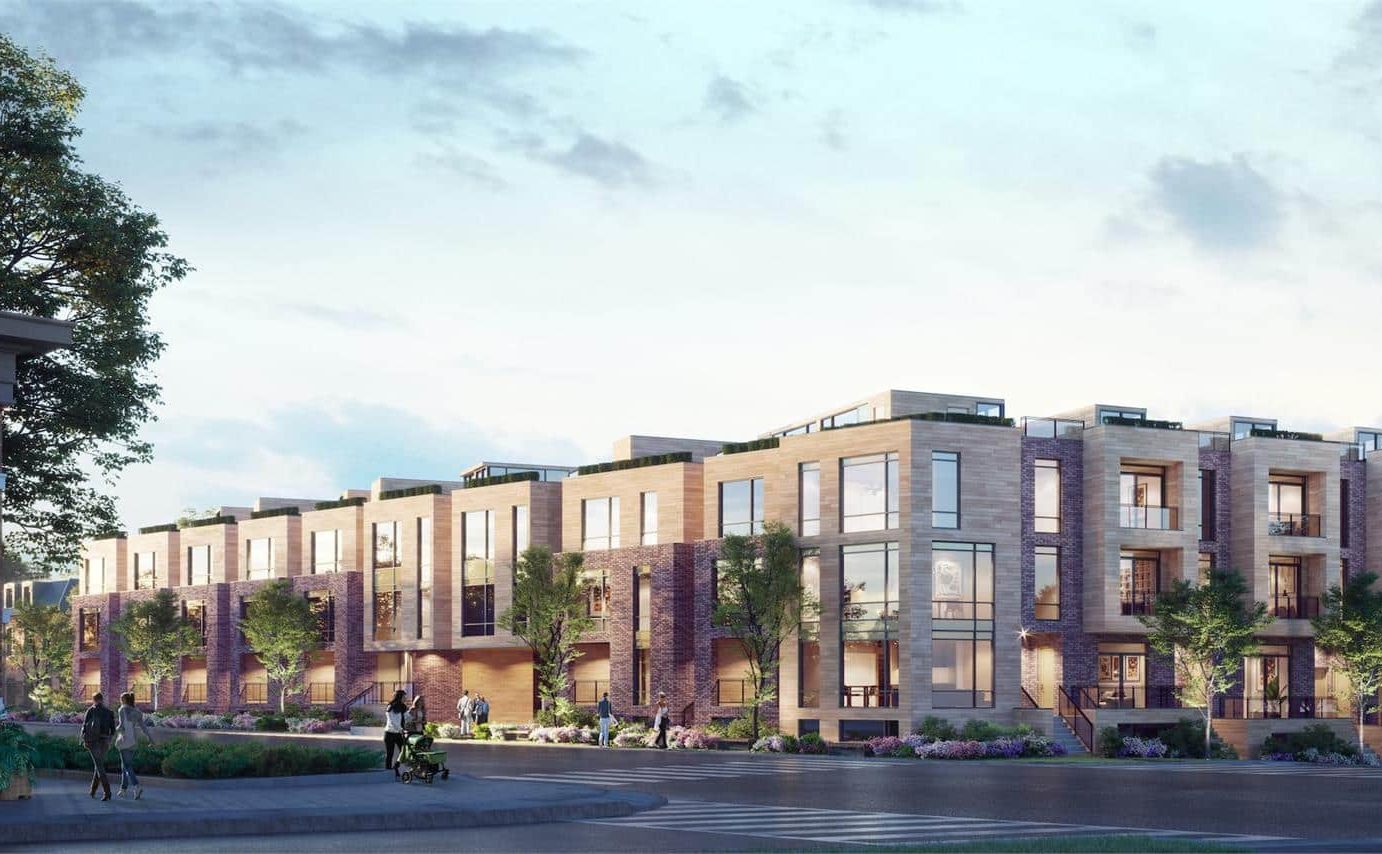 Average Price in 2021 for Toronto Townhouses
Townhouse sales grew by 62.5 percent last year and the rate is expected to continue growing. The average price also grew at a rate of 17.3 percent to $858,025. This price is much lower than other comparable properties such as single-family homes which makes them very attractive for young families or professionals. Investors will be interested to know that the average rent in Toronto is around $2700 with a rental appreciation rate of 3.5 percent that has been consistent for the last 10 years. With resale appreciation rates being similarly consistent, a new pre-construction townhouse in Toronto is a great investment. With prices consistently growing year over year, new townhouse developments in Toronto have shown themselves to be a very lucrative and worthwhile investment.
Find New Townhomes Developments By The Neighbourhood
Toronto Neighbourhoods
A perfect place to call home!
Toronto has experienced an architectural resurrection with regard to upscale townhouse developments. Acclaimed developers and world-class architectural firms have made their mark on the Toronto skyline by designing memorable and unique buildings that people from all over the world move to Toronto to live in. The old and the young alike are increasingly interested in settling within the city itself, as opposed to the suburbs surrounding the GTA. Young professionals in the 25-35 age group are more inclined towards residing in the Downtown core, but families or more established professionals have plenty of options in the many neighbourhoods scattered throughout Toronto which are full of new townhouse developments. There are a huge amount of new pre-construction townhouses built to meet the needs of a growing population, with a special emphasis placed on young professionals and families. As the economic center of Canada, Toronto has a dynamic demeanour with a favourable business environment. Luxury real estate, excellent transit coverage, career opportunities, and an exciting lifestyle are what the city can offer new residents. Below is a list of new pre-construction townhouses in Toronto for sale in 2018. Register with us now to gain early access to units and special offers to be a part of this growing city!