Why Invest in Oakville Real Estate?
The Town of Oakville is in southern Ontario, within the Greater Toronto Area and the Halton Region. The community is home to over 200,000 people and is a steadily evolving culturally diverse city, as the town implements its 2021 Diversity and Inclusion Action Plan to create a community where everyone belongs. The town is composed of six divisions that hold twelve neighbourhoods, while the northern area is under development. The plan to develop North Oakville was initiated in 2006 and is currently in the works as of 2021. North Oakville is located north of Dundas Street West and south Highway 407. There are many opportunities to buy pre-construction condos in Oakville as the town continues to develop. The goal of the North Oakville Plan is to build new communities that will feature residential and commercial opportunities, an improved transit plan, and the preservation of green spaces.
Why Buy New Condo Developments in Oakville?
The town of Oakville is a thriving community with a diverse range of real estate investment opportunities, convenient access to nearby cities via surrounding highways, and a wide variety of employment possibilities in various industries. Oakville is home to several corporate offices for major companies such as Ford Motors, Siemens Canada, and Tim Hortons, as well 322 life sciences companies. The city counts on a high quantity of reputable secondary and elementary schools and is recognized as one of the largest ratios of private schools in the country. The Sheridan College's main campus is located in Oakville as well, where there are over 49,000 students enrolled in various programs such as Applied Health and Community Studies, Engineering Sciences, Social Sciences and Business. By buying a new condo development in Oakville, residents will have access to quality schools and safe neighbourhoods and can enjoy the city's lakeside recreational areas, green spaces, and downtown shopping district. Residents can easily travel throughout the city and the GTA via Oakville Transit, GO Transit, the QEW, and Highways 407 and 403.
Employment in Oakville
Oakville has a highly skilled workforce that makes up its four key sectors of Financial Services, Digital Media, Information and Communication Technology (ICT) and Film, Life Sciences, and Advanced Manufacturing. The financial services sector has over 2,600 companies in Oakville that employ over 28,000 workers. Some notable financial services employers in Oakville include Siemens Canada, PwC, and Canadian Tire Financial Services. Within the digital media, ICT and film sector are over 904 businesses with over 7,600 employees within the industry who work in computer and software programming, film production, media design, and telematics. Prominent Digital Media, ICT and Film employers in Oakville include The Weather Network and Rockstar Games Toronto. The life sciences sector of Oakville has over 300 companies with over 10,000 employees that provide a range of services from pharmaceutical services to medical services. The last key sector of Oakville is advanced manufacturing, with almost 300 businesses within the industry and over 8,000 people who work in the automotive, aerospace, and energy sectors. The major companies within the advanced manufacturing sectors include Ford Motor Company of Canada, Dana Corporation, and Collins Aerospace.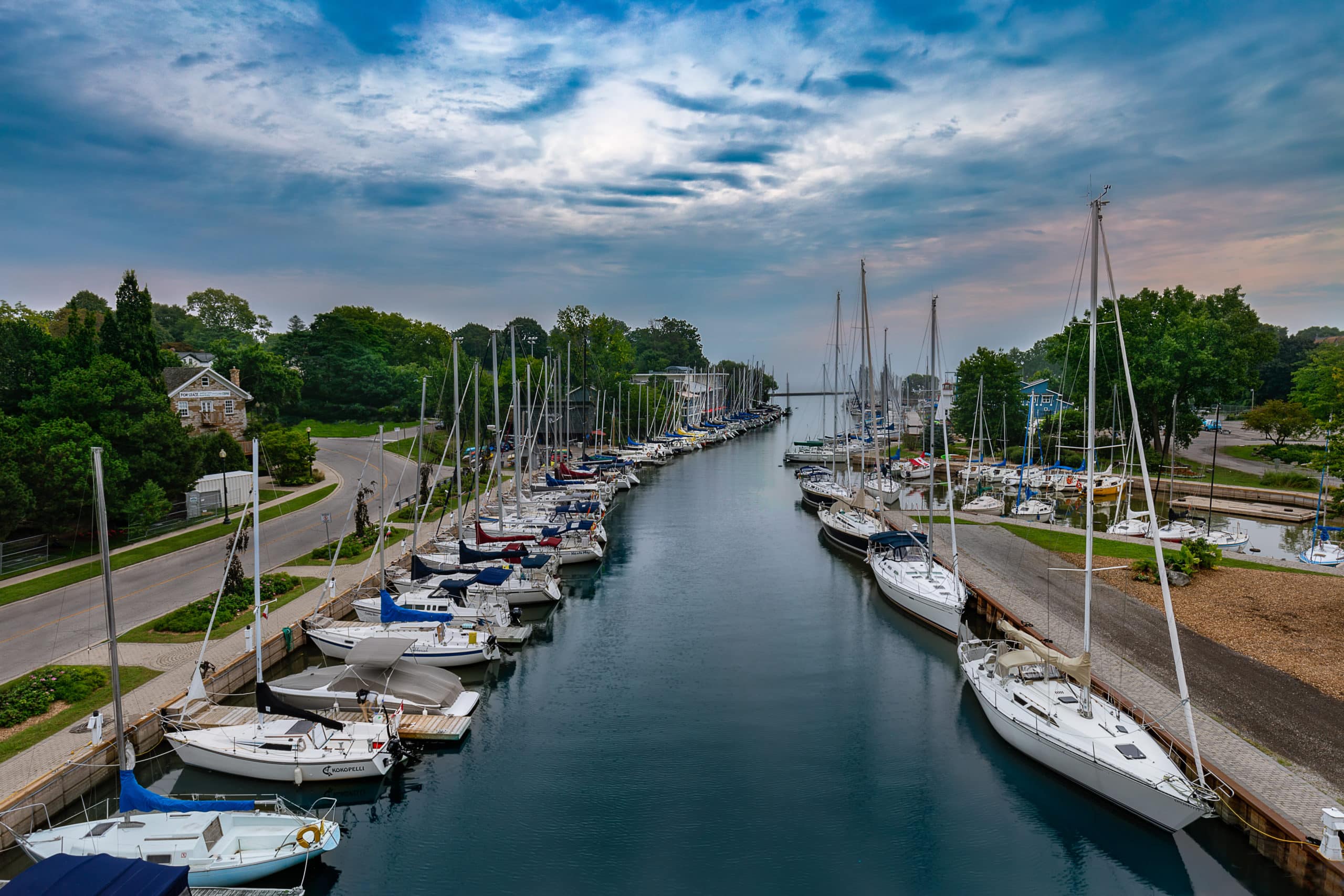 Average Condo Price for Oakville in 2021
The average selling price for all types of homes, including condos in Oakville, was approximately $1,471,838 for the current year of 2021. The average selling price for condos in Oakville in 2021 is $823,572 and the average listing days on the market is 13 days. The average price for condos in Oakville is above the average price for the Halton Region and the GTA, which is at $678,545 and $691,791, respectively. The average price per square foot for condos in Oakville has been at $683 since 2019. The average rental price for condos in Oakville is $1,883, the average rent for a studio unit is $1,500. For 1-bed and 2-bed units, the average rental price is $1,874 and $2,265, respectively. The vacancy rate for condominium apartments in Oakville is at 2.2%.
Neighbourhoods in Oakville
Oakville is composed of 12 unique neighbourhoods, each with its own set of perks. Uptown Core, River Oaks, Old Oakville, and Bronte Village are some popular neighbourhoods to look at if you're looking for a pre-construction condo in Oakville. Located at the major intersection of Trafalgar Rd and Dundas St E, and in the centre of the town is the Uptown Core neighbourhood of Oakville. The uptown core has a mix of large commercial areas and suburban homes. As the plan to develop the northern part of the town takes place, there are many opportunities for buying a new condo in Oakville. The Uptown Core area has more of a busy city atmosphere, as there are large shopping plazas and many entertainment options. Living in the Uptown Core will give you easy access to public transit via the major roads surrounding it, and it is a safe and pedestrian-friendly area. The area is a high-density neighbourhood with a mix of single-family homes, townhomes, and condominiums. Commuting is easy for Uptown Core residents, as it only takes 10 minutes to reach Highways 403 or 407. If you're looking for a quieter setting, consider the River Oaks neighbourhood located directly west of the Uptown Core and south of Dundas St W. River Oaks is a family-friendly urban-style neighbourhood. There are many nearby amenities and green spaces that residents can enjoy. Residents of River Oaks can easily access shopping areas, public transit, and nearby highways. If you are looking for a more trendy and charming neighbourhood, look no further than to Old Oakville, also known as the town's Downtown area. Old Oakville is located south of the town and sits right on the shore of Lake Ontario. Residents of Old Oakville can enjoy strolling around the downtown area, where there are many shopping boutiques and local dining options, or they can walk along the lakeshore. Old Oakville Residents can easily access public transit and highways, making travel to other cities simple. Many of the residential properties in the neighbourhoods are newer developments, so check it out if you're looking for new condo developments in Oakville. Directly west of Old Oakville is the Bronte Village neighbourhood. Bronte Village is similar to its neighbour Old Oakville, as it is situated right by the lake and has many unique attractions and amenities that residents can delight in. Bronte Village has a mix of older homes to newer homes and high-rise condominiums. Residents of Bronte Village can walk along with the neighbourhood's many waterfront parks and can check out the many shopping boutiques and fine dining options in the neighbourhood's main street. These neighbourhoods are the perfect places to look for new condo developments in Oakville.