Why Should You In Bowmanville's Real Estate?
The Town of Bowmanville offers the idyllic lakeside country home life with urban amenities, a culturally rich downtown, and smooth commuting access to major cities. It is one of the towns experiencing an influx of new residents and investment in the Durham region, with developments of entire neighbourhoods made out of preconstruction homes expanding Bowmanville. It features numerous walking trails, often in conservation areas or along creeks which flow with fish. It has several festivals throughout the year that give it a rich community personality, and numerous downtown stores catering to a wealth of interests. It's quaint, like stepping back in time, yet expanding at a rapid pace that rewards early investors. Big box stores are there, but one can get all they need walking along the small shops on main street. It has a rich heritage, which is expressed through its shops, community events and town history. Demographically, three quarters of the town's residents have a European heritage, mixed with Canadian and American. 60% of them are married or in a common law union. The majority of its Bowmanville's residents live in detached homes, with half of them being occupied by a family with children. Coming soon to the town is a huge expansion of the 407, a go train, and numerous modern preconstruction homes in Bowmanville. Invest early, because all of these things are still in their initial stages which makes for a lower buy-in cost to reward those who are in the know. For investment or personal home buyers, buying into new Bowmanville real estate is a sound financial and life decision. It's a 45 minutes drive east of Toronto. Highways 401 and 407 are a 5-minute drive from the residential quarters of the city. The GO train connection is set to finish by the end of 2021, with GO busses providing public transit to other cities.
List of New Homes in Bowmanville
New Homes In Bowmanville And Reasons To Buy
Bowmanville real estate features affordability to investors seeking to buy up prime land for clients. Whether you are an investor wanting to cash in on the town's rapid growth, or a would-be resident wanting a reasonable buy-in for their own place in this beautiful town with your family, Bowmanville is an ideal place to buy real estate. The two main reasons to invest into Bowmanville's real estate market are the quick access to major transportation, including the nearly-developed GO Train line, and the influx of money into the town that is developing its infrastructure and introducing more businesses and further expansion. Investments from out of town are expanding the highway that brings current residents to the city for work to make for a smoother commute, as well as setting up a GO Train station in the town so its residents can ride public transit hassle-free to all the major urban centres connected to the GO Line. The town is also undergoing a beautification process that provides new brick sidewalks and old-style lighting to enhance the town's downtown 'heritage' aesthetic. This downtown features stores that provide all kinds of amenities, from heritage trinkets to fashionable clothes and great food. This area often fills up during the five major festivals that are celebrated through the seasons– from a Maple Festival in the Summer, Apple Festival in the fall, and the Moonlight Magic festival in the winter. According to MoneySense Magazine, Bowmanville is the top neighbourhood to buy new real estate in the Durham Region. It's 75km east of Toronto and surrounded by rich agricultural land on one end, and Lake Ontario on the other. Its summers are warm and humid, and its winters relatively mild. Although the community is pricier than some other areas, that price is due in large part to the connections it has through transit to employment opportunities for those dwelling in it, with this value sure to rise as the GO train develops. Compared to the GTA, it's still significantly cheaper to buy a home in Bowmanville by nearly 40%.
Bowmanville Employment
Living in Bowmanville is affordable, meaning a person can own a larger home in Bowmanville than anywhere closer in the Greater Toronto Area, while remaining within their budget. For many, places of employment are farther out into other urban centres like Oshawa, Toronto, or any other stops along the GTA. With this said, over half of the population take under half an hour to travel to work, and the development of the GO train will expand the network of employment opportunities for Bowmanville's residents. These residents on average have a median income of $41,133 with a household median income of $91,193 as of 2015. In general, the town has very low unemployment and vacancy rates compared to Ontario's average. The residents are also educated, with a much higher amount of college degrees than the average.
For those who work within Bowmanville, Retail is split between the numerous small stores that occupy the city's downtown, and larger retailers that service the new and developing neighbourhoods in the city, i.e. Walmart. On the manufacturing side, Toyota Canada has a presence in the town and is developing a new parts distribution site, and is also involved in developing the local community through its funding of new nature trails, such as the Toyota Trail.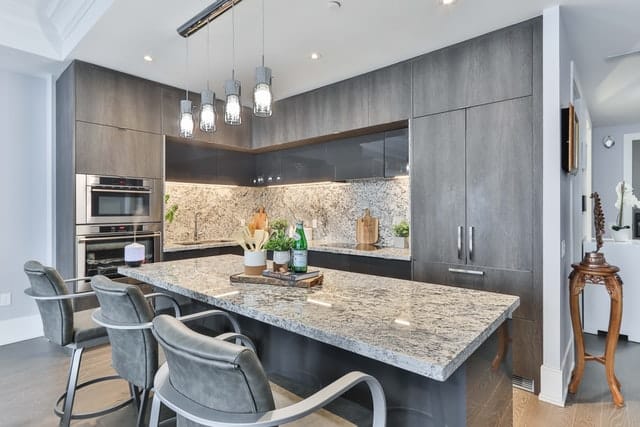 Average Prices for New Homes in Bowmanville
Single and detached homes are the biggest real estate market in Bowmanville, with new neighbourhoods planned or already in development. With 1,795 new listings in the Clarington region, the average cost for New Homes in Bowmanville has been $941,584 between 2020-2021, at a high of $992,232 in August 2021.
Getting Around In Bowmanville
It's inherently a commuting town, with most of its residents driving– and soon taking the train, to larger cities like Oshawa and Toronto. In addition to the addition of Bowmanville as a GO Train stop, highway 407 is being expanded to improve traffic flow by adding an additional lane on either end of the highway that brings Bowmanville residents to the city. The expansion of the GO Train in Bowmanville will allow its residents to travel greater distances, to more urban centres, in shorter time and with less hassle than highway driving and city parking. For public transit within town limits, Bowmanville has its own bus service, bringing residents from more distant residential neighbourhoods to its lively downtown in minutes, or to other stores and its numerous parks. The town is already not far from the GTA, and the train line will give Bowmanville residents a similar commuting time to those within the more expensive region.