Investing In The St Lawrence Market Real Estate?
St Lawrence Market has seen an exponential growth in its population since the last couple of years. This has mainly been driven by the series of residential developments coming up in the neighbourhood in the form of condominiums, townhomes and other types of homes. Besides the increase in residential development, St Lawrence also has several things to offer which can be irresistible to a lot of people. To begin with, the neighbourhood is located right in the heart of the city, which means that it is a lively and vibrant area with several shopping, dining and entertainment options. The strategic central location of the neighbourhood also provides it with excellent world-class transport. You will find multiple vendors, big box stores, local eateries, fine dining and the famous St Lawrence Market itself which has been a staple here for many generations. The neighbourhood is popular with young professionals thanks to its work and play principle. You will also find families here looking to plant roots. St Lawrence Market has a ratio of 51:49 with the former being homeowners. This indicates that there are several residents here who prefer to rent out a home rather than buying it. You will also have several options when it comes to finding tenants as there are young professionals, families and even post-secondary students out here looking for a place to rent. The average prices of homes in St Lawrence Market have also seen a hike of 13% over their previous terms. This would result in the value of your real estate property reaching a substantial amount within a few years. Be it for your own use, or for renting out, investing in a new pre-construction home here has a series of benefits.
List of New Lawrence in St. Lawrence Market
New Townhomes St Lawrence Market And Reasons To Buy
Condominiums constitute the majority of the homes sales in St Lawrence Market; however there are still several townhomes coming up in the area. Besides being an ideal haven for young professionals, the neighbourhood is also family-friendly and features several young families here who are looking to plant their roots. Townhomes are always a preference when it comes to families and investing in a townhome here can be very beneficial. Real estate prices in Toronto are constantly soaring and setting up an investment opportunity here can help you reap several benefits. St Lawrence is one of the few places in Toronto which offers a distinct neighbourhood feel despite being in the heart of the city. The prime location also brings an amazing walk and transit score for the residents to enjoy. The St Lawrence neighborhood also features several financial towers which provide employment opportunities. This makes the neighborhood ideal for young professionals who want to save time on commuting daily. Who wouldn't want to work and stay in the same neighborhood? The neighborhood also is home to the renowned George Brown College. This makes the area ideal for off-campus students who are looking for accommodation nearby. St Lawrence is an ideal place to call home if you are looking for a place where amenities and transport are available in abundance.
What To Do In St Lawrence Market
St Lawrence Market is a blended-use, mixed-income, densely populated and a pedestrian-friendly neighborhood. One of the most notable landmarks here happens to be the Flatiron building, which is renowned for its unique and noticeable narrow shape and structure. In photographs, you may be able to see it in the frame with financial skyscrapers as the CN Tower rises in the back. In the last couple of years, St Lawrence has witnessed the construction of new luxury glass and steel condo developments which can be usually seen around the downtown core area. This place allows you to see several varieties of buildings ranging from modern luxurious condo projects to a few of the best loft conversions in the city. Population in St Lawrence Market has grown exponentially and now stands at over 30,000 owing to the several new pre-construction condominiums and homes converted from lofts that are continuously developing. St Lawrence Market is a neighbourhood that is a part of Toronto's downtown core area. This is one of the few areas in Toronto that gives you a distinct neighbourhood feel despite being in the heart of the city. This neighbourhood is bordered in the east by Parliament Street, in the west by Yonge Street, in the south by Lakeshore Boulevard and King Street forms its northern border. This neighborhood has seen substantial development over the years and seems to be improving itself year after year. Although located amidst the city core's centre, St Lawrence offers a very lively and distinctive neighborhood feel. Majority of the condos here are low-rise as well as mid-rise and offer amenities of world-class order. The neighbourhood is famous for its elegance, extraordinary style of architecture and most of all, its thriving market. The St Lawrence Market has been the neighbourhood's staple since 1803. It is an emporium for food which consists of more than 200 vendors who put up restaurants, food stalls as well as the Market Gallery together.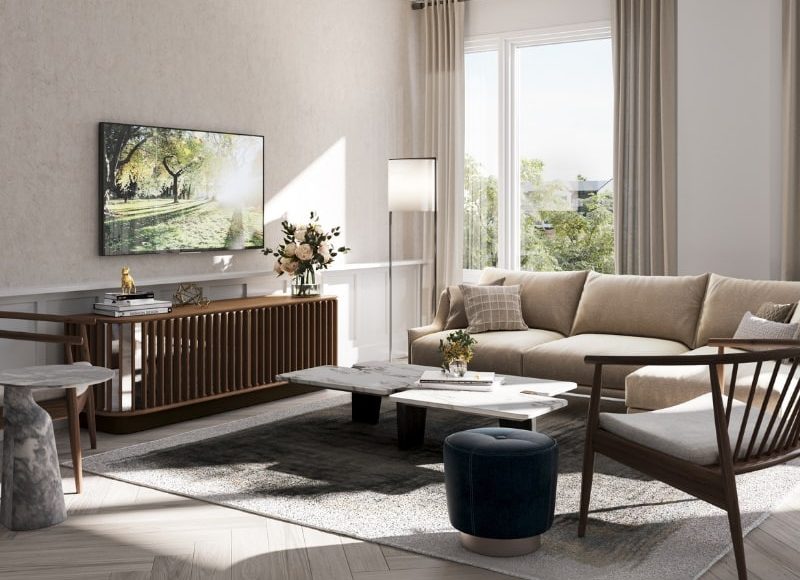 Average Prices of Townhomes In St Lawrence Market
Townhomes constitute only 1% of the home sales in the neighbourhood with condominiums dominating the other 99%. The price of all types of homes including townhomes have an average price of $571,369 which includes a hike of 13 percent over the last term. The average premium on the other hand was $565,772 over the previous year, against $906,623 as the average freehold price. Homeownership in St Lawrence is high with 51% of the population being homeowners while the remaining 49% live on rent.
Transit And Accessibility In St Lawrence Market
St Lawrence Market is served well by public transportation that is connected to the rest of the city as well as other parts of the Greater Toronto Area. There are multiple street-level transit options here with streetcar services running along King Street and bus services running along Sherbourne and Parliament Streets. Besides these you can also opt for the subway through the Union Station or the King Station which are located just a few steps away and can be reached on foot. St Lawrence also has great access to arterial roadways and major highways, making it a blessing for motorists. Lakeshore Boulevard, Don Valley Parkway and the Gardiner Expressway are easily accessible from this neighborhood and can be reached within minutes. These routes serve as a gateway to the rest of the Greater Toronto Area.