Why Should You Invest in St. Catharines Real Estate Market?
St Catharines, otherwise known as The Garden City, rests north of Niagara falls, and on the southern end of the Golden Horseshoe economic zone. It stretches wide along the coast of Lake Ontario, with its own large body of water in the city called the Martindale Pond. It has a port, an island, and various parks that utilize this water space. More streams, including a straight-lined canal, run through the city to connect Lake Ontario to Lake Eyrie, making it a sort of border town between both bodies of water. It has a stable, large town or small city population of roughly 133,000 people (as of 2016). Since the last census, the population growth has been very small, but not negative either. It's two largest population brackets are in the 20-30 and 50-60 years old range, and the most populous income bracket is $60-79k/yr.
List of New Townhomes in St. Catherines
Why Buy Pre-construction Townhome Developments in St. Catharines?
Rich in the beauty of a lakeside port-town aesthetic, St. Catharines' waterways and rich greenspaces make it an ideal place to settle down without losing the youth and multicultural demographics that infuse life into its urban core. New townhome developments along its waterways let real estate expand further inland while keeping their waterfront status. Connected to that, fans of water activities have a wide variety of things to do– beach-going, swimming, boating activities and fishing among some of them. For a smaller city, St. Catharines is rather diverse. It has a solid base of Aboriginal, black, Chinese, and Latin American populations as well as other visible minorities. So while the majority of the population are English-speaking Caucasians, there's a diverse mix of peoples and their backgrounds to infuse life into the city. St. Catharines is also the home of the FirstOntario performing arts centre, as well as a wide variety of parks, rec centres, and other places of entertainment and relaxation available to the public. One such place is the Centennial Gardens, which were formed to celebrate Canada's 100th anniversary.
Employment in St. Catharines
Close to two thirds of St. Catharines' population have an education above high school, and their focus tends toward business and public admin, law and social sciences. The people employed in the city trend toward education and healthcare, as well as business administration. Retail labour is also highly popular, slightly more than the provincial average. They also go over the average for healthcare, partly due to the older population base of the city. The Queen Elizabeth way highway and Highway 406 provide direct transit points to major hubs such as Toronto, Niagara Falls and Buffalo USA. The majority of the town's population travel up to 30 minutes to work, with 38% needing less than 15 minutes. Only about 20% take longer than half an hour to get to their destination. With two highways crisscrossing the city, they are able to make their trips within reasonable time, which is useful when 40% of them work out of town.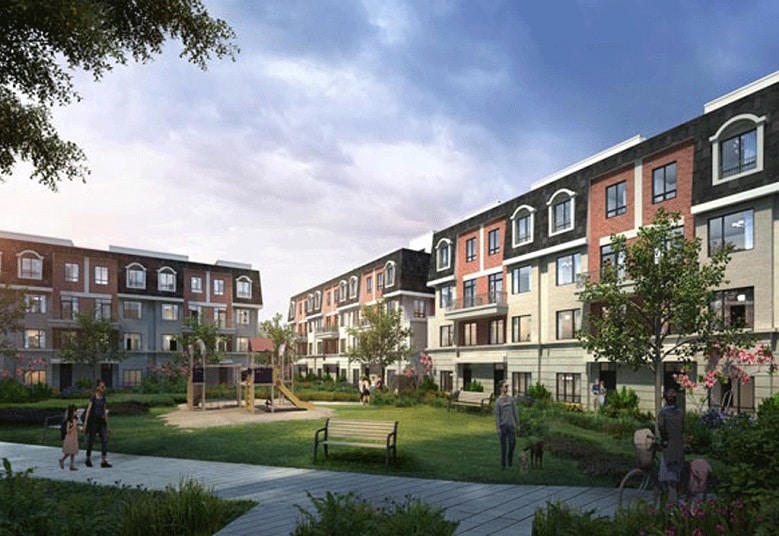 Average Prices for Pre-Construction Townhomes in St. Catharines
Average Pricing for pre-construction Townhomes in St. Catharines rests at $808,000. However, prices by the waterfront are often much higher than this average, and much construction for new Townhomes runs along the lakeshore or alongside its large Martindale Pond river. Pre-construction townhomes are roughly half of new real estate in St. Catharines. Various pre-construction townhome developments in St. Catharines offer units from 800-2250 sq. ft. at prices ranging from $600,000-$800,000+ depending on size.
Getting Around In St. Catharines
The majority of St. Catharines' population travel to work in a car, and the majority take 15 minutes or less to travel to work, with only 20% of the total population needing more than 30 minutes to get to work. Public transportation in St. Catharines is set up to allow its population to travel the city without needing a car, with longer transit lines leading to Niagara falls, other cities like Thorold, and bringing students to and from Brock University. GO Bus lines run along the QEW to other cities such as Hamilton, Toronto, and lead down toward the US border. The GO train network also connects from Toronto to Niagara. Thanks to these, St. Catharines benefits from very close proximity to Niagara falls, the US Border, and access to the Lakeshore West GO train line that connects it to all the major cities of the GTA and surrounding areas. Pre-construction Townhomes in St. Catharines are planned in lush green neighbourhood suburbs, in blocks surrounded by park space, or running along the rivers and Ontario-Erie canal. Often with close access to schools and grocery stores, and close proximity to the highway.