Investing in St. Catharines Real Estate Market
The Garden City, St. Catharines, is a city of about 130,000 people on the northern edge of the Niagara region. It's also on the southern tip of the golden horseshoe which make up the major economic cities of Ontario. As part of this horseshoe it's connected to large economic hubs through the Go train station, bus stations, and two major highways including the QEW. It also functions like a border city between the two main Great Lakes, Lake Ontario and Lake Erie. This takes the form of a large straight water canal traversed by boats large and small. connected to this canal are a variety of other smaller waterways, and in the heart of the city is a large body of water called the martindale pond. So with two main highways running through its land, and a number of waterways coursing through its body including a canal which sees its own economic transport activity, the city is able to function as an intermediary for all kinds of economic activity. this is also why it's called the Garden City, as the waterways and large amount of unpaved greenspace give it an idyllic quality, as well as provide opportunities for its city planners to create a variety of parks dotted around its landscape. of its population a larger amount of it then might be normal for smaller towns and cities that have a non European ethnic background. This allows the city to retain a certain vibrance in its more urban core that helps to infuse a life in the city and offer things to do to both travelers and its younger domestic denizens. Publicly accessible things to do include an animal farm, ice rinks, a large performing arts centre, History Museum dedicated to Canadian heritage, and parks like the Centennial gardens, which were created to celebrate Canada's 100 year anniversary.
List of New Homes in St. Catherines
Why Buy New Home Developments in St. Catharines?
St. Catherine's has a lot of room to grow. the fact that it has so much wide water space going in land, and how it's many parks are woven in with those waterways provides a large amount of open real estate where townhouses, condos, and new neighborhoods altogether can be made and achieve an idyllic waterfront status even if it's technically several minutes drive away from Lakeshore. This extends to any water based activities, where people living here will always be within a few minutes walk of a fishing spot, a beach, or a small port that they can launch a boat off of. There are countless places in St. Catharines that a person can own a home and still get a large waterfront Vista surrounded by cared for greenspace. This opportunity for almost infinite expansion means that now is a great time to get property, even when "now" is anytime between the present day to years from now.
Employment in St. Catharines
Around 2/3rds of the population are educated above a high school diploma. There's an emphasis on education in healthcare and engineering, as well as fields like business, science, and law. This emphasis is close to the provincial average, but in both education and employment things like health care rise a little bit higher than other cities in the province. sales and service occupations are the majority of work that people do, and specifically it is retail service that rises above the provincial average. a lot of the younger demographic who are still in postsecondary education or are too young for it take up these retail jobs. For people who travel to work, the Queen Elizabeth way and Hwy 406 provide a Direct Line of transport to two other major population hubs like Niagara Falls, The US Border, and other cities in the GTA like Hamilton and Toronto. Most likely these highway trips do not go too far as the majority of the city's population need less than 15 minutes to get to their workplace destination. only 20% of the people living in the entire city need more than half an hour to get to where they work. This would make it an ideal location for someone looking to move to a smaller but still beautiful small city while also maintaining a small workplace commute. Of course, the cost of living is reflected in this by the higher average cost for real estate.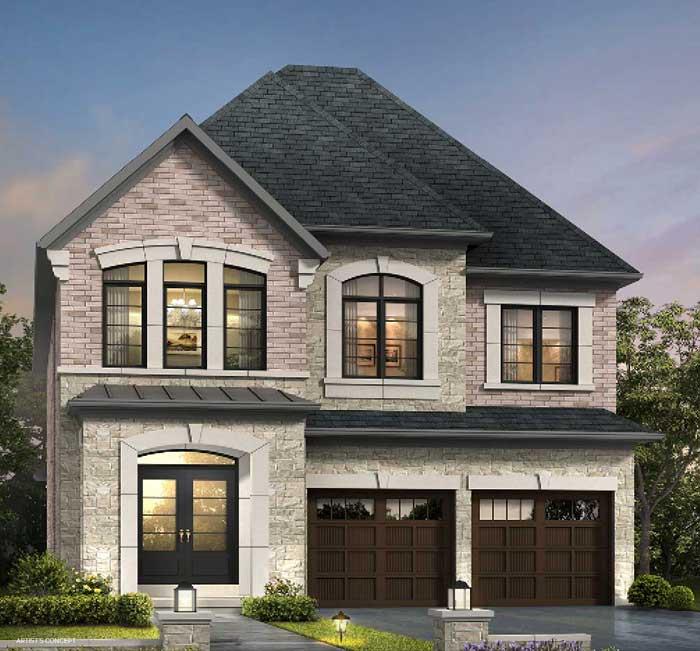 Average Prices for New Homes in St. Catharines
Pricing for new detached homes in St. Catharines will range around $1,013,000. Of the ones developed, new homes in St. Catherines are currently individual construction projects rather than planned new neighbourhoods, however neighbourhoods with pre-construction townhome plans may include single home units interspersed between townhome blocks
St. Catharines Transportation & Accessibility
A lot of the people living in St.Catharines travel to work by car and usually do so in trips of 15 minutes or less. only a fifth of the total population need to drive for more than half an hour to get to work. Public transportation in the city is also set up to allow its population to travel throughout the city without needing a car. This includes trips to other cities, because the city buses can bring people to go buses and the train, and to places like Niagara Falls and Toronto from there on. There's such a close proximity to Niagara Falls that it's able to be a quick trip for people living near it, as any specific amenities not regularly available in the malls here can be sought out in the city bordering the United States. It's about a half hour trip to get there, which makes it an easy destination for casual visits to hang out as if it were an entertainment district extension of the city itself. And thanks to the bus infrastructure that the city has, shorter trips can easily be facilitated by those without quick access to a car or desire to bring their own.