Getting into Orangeville's Real Estate
Orangeville is located in South Ontario's countryside, less than an hour from the centre of the Greater Toronto Area. It provides new inhabitants with a distinct small-town character while being close to large metropolitan facilities. Its primary selling point may be its proximity to the Niagara Escarpment, which provides pristine natural beauty directly outside the windows of new houses in Orangeville. It boasts a thriving downtown for local companies and facilities, as well as a variety of shopping and dining options. Due to the town's location, economic prospects, and emphasis on healthcare and community services, it has seen constant development. Georgian College is located on its own campus, as is a large hospital, as well as a broad assortment of retail and service enterprises. Brampton is a straight line along Roadway 10, and people can access major parks, conservation areas, golf courses, and ski destinations through the same highway. On its northern boundary, the town also has its own Island Lake conservation area, which is next to a natural reserve. The town boasts a vibrant culture that nurtures an artist community and hosts live theatre shows. It is home to a sprawling network of parks, including the northernmost Island Lake. For those who enjoy the great outdoors, there is fishing, swimming, golfing, skiing, and a variety of cross-country activities. By the 2016 census, the town's population has surpassed 29,000 and is predicted to reach about 37,000 by 2036. It is a young village, with a median age of 38.7, less than half of Ontario's norm of 41, with the densest population group being the 25-44 range.
List of New Condos in Orangeville
Reasons to Invest in New Condos in Orangeville
Orangeville, located in the heart of Canada's economically powerful engine — the Golden Horseshoe — provides a great combination of characteristics, including proximity to metropolitan areas, job, and education, as well as a country lifestyle with nearby national park reserves. Residents moving into new Condos in Orangeville may enjoy the town's stunning scenery and natural environs, while also taking advantage of large shops located within the town and any specialty goods or services that the town cannot supply being just down the highway. It's already a desirable location for new families, with the 25-44 age group particularly popular in town due to the town's reduced housing costs and closeness to larger cities for commuting. Orangeville's housing prices are competitive, being cheaper than those of neighbouring communities on the outskirts of the GTA, while yet offering a diverse variety of housing options, from stately brick single houses to modern community townhomes and condominiums. Orangeville has a rather complete bus service for those who do not choose to use their automobile or who have children who require transportation throughout town. It is home to multiple schools and a large hospital, as well as two community centres that incorporate recreational, community-building, and cultural activities. Swimming pools, arenas, running tracks, and gyms, as well as conference rooms and a library, are all available. It is home to 35 parks, providing inhabitants with an inexhaustible supply of fresh trails and riding tracks to explore.
Orangeville's Top Industries
Orangeville is home to a varied range of enterprises, is a hub for commerce and services in the region, and is a member of a huge multi-national industrial chain. It is home to a college campus, and students may commute to other post-secondary institutions through a highway drive to Brampton, which takes little over half an hour. Residents commuting to work can reach a majority of the Greater Toronto Area in 30 minutes to an hour. To be precise, an Orangeville resident commuting to work may reach any area of the GTA's eastern end in 30-45 minutes without having to use the crowded 407 or tolled 401. Additionally, students can attend Sheridan College via Brampton, the University of Guelph and Conestoga College via Guelph, or the University of Toronto via Mississauga. In Orangeville, half of all businesses have between one and four employees, with real estate being the most prevalent industry, followed by professional/trades services and construction. As a result, the primary industry of Orangeville is expanding. Retail, manufacturing, and construction rank highest in terms of number of jobs.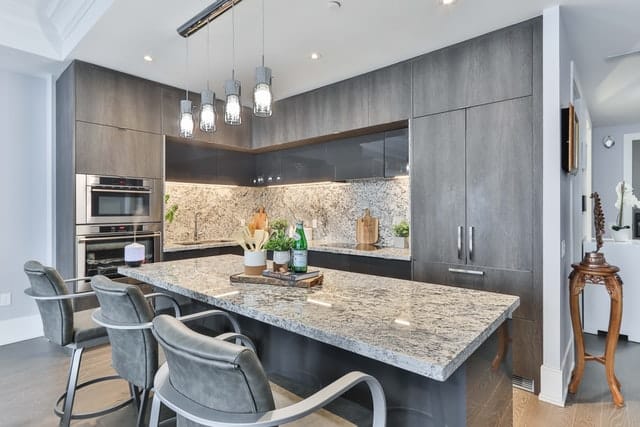 Average Price of New Condos in Orangeville
From 2020 to 2021, the average price of all homes in Orangeville has risen to $834,837 while the number of listings has declined. For new Condos in Orangeville, the average cost is $526,000.
Orangeville's Transportation Network
Orangeville enjoys an advantage over other small communities due to its closeness to the Greater Toronto Area. It is located immediately along a highway that connects it to the Greater Toronto Area through Brampton, or travellers may continue east until they reach highway 400, which provides a direct route into Toronto. Brampton is around 35 minutes away, Mississauga is approximately 45 minutes away, and Vaughan is approximately 55 minutes away. For any air travel requirements, the Toronto Pearson airport is 45 minutes distant. Orangeville residents going into new Condos will need a car to access these roadways. There is a GO Bus that runs between Brampton and Orangeville in approximately 50 minutes and arrives at Union Station an hour later. Orangeville also has a public transit system with buses that run throughout the town, providing access to all major stores and the majority of local services. As a result, Orangeville is one of the few tiny country communities in southern Ontario with extensive bus service.