Why Invest In Port Credit Real Estate?
Port Credit is the most well-known and popular neighbourhood in Mississauga. This is fitting considering its ideal waterfront location, main street shopping district, recreational facilities and Go station. Port Credit's waterfront has been revitalized for some time now, attracting a significant amount of real estate development. There are many individuals who desire to live in a safe, thriving waterfront neighbourhood. The projected Hurontario LRT in Mississauga, which is slated to be completed in fall 2024, will have a Port Credit terminus, allowing people to travel as far north as Brampton in record time. Having three stops actually planned for Mississauga's City Centre and Square One, commuting around the GTA is going to get a lot easier, making this a perfect time to invest in the neighborhood.
List of New Condos in Port Credit Neighbourhood
Why Buy New Condo Developments in Port Credit?
With a few new condo developments in the works, this lakeside hideaway is just beginning to embrace the condo market. This might be a key location for the smart investor to explore buying new condo developments in a neighbourhood where the bulk of the population consists of professional couples wanting to rent, paired with a shortage of luxury condo developments and a rapid transit system about to debut nearby. In Mississauga, condo investments appreciate 16 percent higher yearly than in Toronto, where annual gain is 11.83 percent. The neighborhood's unflappable market fundamentals provide a high return on investment.
Port Credit Neighbourhood
Port Credit is a beautiful Mississauga neighbourhood located on the shores of Lake Ontario at the mouth of the Credit River. It is located just east of Oakville, and is bounded on the north by the CN Railway, on the east by Seneca Avenue, and on the west by Godfrey's Lane. Port Credit's allure is felt by many. It is nautical, attractive, yet notably urban. With its beautiful storefronts, accessible walkways, and closeness to the lake, the neighborhood exudes a warm and inviting ambiance. It's easy to understand why this is one of the most desirable locations in the GTA, since it's often compared to Toronto's Beaches neighbourhoods.
Average Price for Condos in Port Credit
In May 2022, the average sale price of condos sold in Port Credit was $1.2 million, up 11.6 percent over the same month the previous year. In May 2022, 5 condos sold in Port Credit, a 37.5 percent drop from the same month the previous year. Condos stayed on the market for an average of 19 days, with 60% of them selling for more than the asking price. There were 29 condos for sale in Port Credit, up 107.1 percent from the previous year.
Port Credit Transit & Accessibility
From driving to walking, the Port Credit region is well-served for all modes of transportation. Although just 38 percent of residents travel by car, the primary east-west thoroughfares are Lakeshore and QEW. Lakeshore Boulevard passes through the neighbourhood and provides easy access to downtown Toronto and Oakville for people who commute by car. With eight bus lines serving the Hurontario/Lakeshore hub and linking to the TTC at Longbranch GO, public transit through Port Credit GO or Mississauga Transit offers alternatives for daily commuters or leisurely outings, and the region is well renowned for being walkable, with a walk score of 83.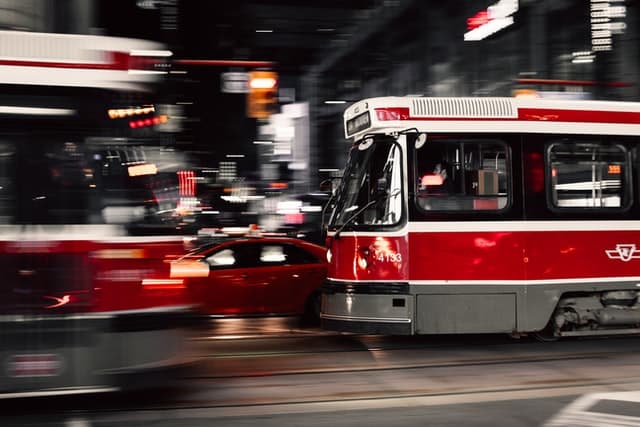 Port Credits Lakeshore Road, which is evocative of a historic Lakeshore strip, offers a broad range of amenities, including independent boutiques, date-night and family-style restaurants, casual bars, cafés, and a variety of services. The south side of the street is surrounded with beautiful greenery that fades into the large stretch of Lake Ontario, making it a great place to stop for spring and summer walks and events. Port Credit's Farmer's Market is one of the most popular hangouts, offers fresh fruits and vegetables and is a popular weekend destination for locals and visitors. Port Credit Memorial Park – A beautiful waterfront park with a playground, trails, sports and picnic spaces, and waterside festivals.