Real Estate in a Remote Working World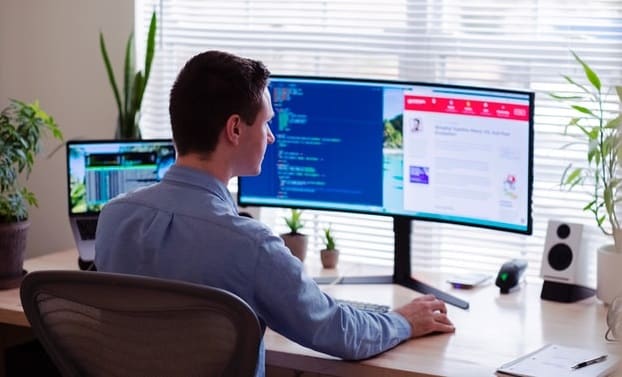 Explaining the Work From Home Revolution
Work from home has been on a slow but steady rise for a while, but the pandemic produced a massive boost to it. Most who have been doing WFH said they plan on continuing to WFH after the pandemic.
Statistics Canada has been taking an interest in seeing how passionate Canadians are about working from home ever since it started gaining popularity in the early parts of the pandemic. This sort of topic is especially important to Ontarians because so many of the country's leading financial centres and tech companies have their largest Canadian operations in the province.
The sort of people who'd be able to work from home are ultimately people who work in technology-related jobs. That could be related to banking and finance, administrative services, and basically any type of job that would've originally involved sitting in the office for long hours on a desktop or laptop computer assigned to you by the company.
---
How does Real Estate Factor In?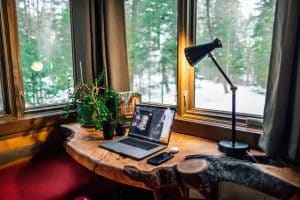 There's often long lists of do's/don'ts that relate to working from home. Right now the internet is littered with guides on how to increase productivity, reduce burnout, ensure a work/life balance is maintained and so on. So often, the biggest challenges that WFH presents are related to where a person lives.
For example, the differences between living in a big-city Condos vs. a small-town Home include: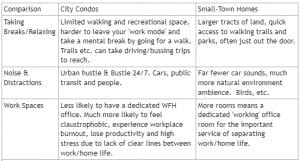 People who expect to be doing remote working for their foreseeable future will be much more inclined to find a home farther out from the city. The above factors are just some of a number of benefits gained from the location your home is in, and the size of it, and these aren't considering the different costs associated.
---
Money Factors
There's a general idea that a person working from home is going to be earning less money out of their job than they would if they were consistently in the office. However, spending up to two hours more at home without needing to commute, plus the other comforts of home, might be enough to make up for a wage loss for some. Furthermore, being able to live farther from the city can eventually mean more money for residents overall. After all, the difference in price between a new condo in Mississauga (Itself up to 40m from Toronto) vs. pre-construction condos in St. Catharines is tremendous.
The primary downside to WFH is the long-term opportunities lost for career progression due to a lacking physical presence– it's much easier to pass up a raise for someone you've never personally seen or isn't around. That said, negotiating those issues is just one growing pain that people are learning to work around.
---
What Towns are On The Rise Thanks to Remote Work?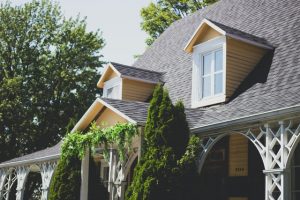 There's a number of towns that are either developing themselves to cater to this new style of workforce, or happen to already be primed and ready due to either good foresight or luck.
Prince Edward County
Prince Edward County is generally remote, and considered more of an upscale retirement locale thanks to its regional emphasis on marinas, heritage focus and cornucopia of wine orchards. However, it also invested heavily into improving its internet infrastructure a while before the pandemic occurred. While new homes in Prince Edward County are a little pricier, they offer a luxurious life and guaranteed workplace stability at a comparatively reasonable cost.
West Meadows in Prince Edward County
---
Ayr
Some drive south of Kitchener-Waterloo, Ayr is a small town with a very young and well-educated population. It sports neighbourhoods occupied by younger professionals looking to leave the city and raise a family in a relaxed environment. It's close enough to Cambridge and Kitchener-Waterloo that they can still drive to the city if the job requires them to show up in person from time to time.
---
King City
King City is another place that's close enough to drive to work, but far enough for a daily commute to be unideal. It's more like a collection of towns, with a few having very high average prices. Younger professionals are more likely to move to a new home in Schomberg, or one of the new condos in King City's namesake town. 
King Terraces Condos in King City
---
Woodstock
Although not the Woodstock of legend, this town is an excellent example of WFH viability. It's in between Hamilton and London, affording a reasonable commute to either city, but professionals moving in benefit from low real estate prices, with new townhomes in Woodstock being in the 400s. It's also a culturally vibrant city, with plenty of festivals and a ton of park and trail space all around it.
---
Welland
Much farther to Ontario's southeast edge, Welland is within striking distance of Niagara Falls and St. Catharines. New Condos in Welland are surrounded by beautiful trails and waterways, with a large canal running straight through it. An extra benefit is proximity to Buffalo, where a person could work an American job from the border city and enjoy an American tech job wage with the ability to stop by the office from time to time.
Upper Vista Welland South Tower
---
Looking to the Near-Future…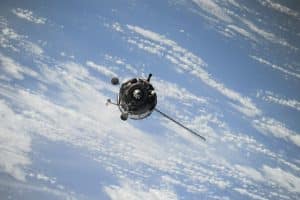 With services like SpaceX's Starlink's tremendous growth, and numerous other competing services working to catch up, satellite internet is being revitalized on a scale never before seen. It's already possible for many rural Ontarians to get high-speed satellite access, with the only thing that the service is limited by is responsiveness in online video games. Every year, SpaceX is launching a wild amount of internet satellites into Earth's lower orbit to provide more consistent coverage. Excluding an up-front cost to get the Starlink dish to hang on your home, the cost is comparable to standard high-speed internet rates in cities.
Soon, tons of small towns in Ontario are going to be ideal for professionals to move into.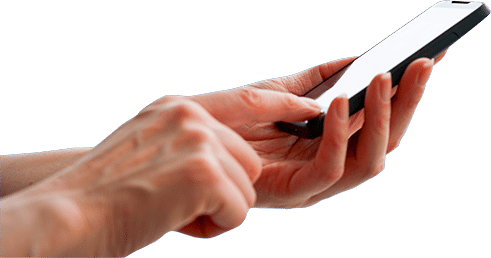 Register to get the latest info on upcoming developments
Connect With Us