The Small Town with Big Smart-city Dreams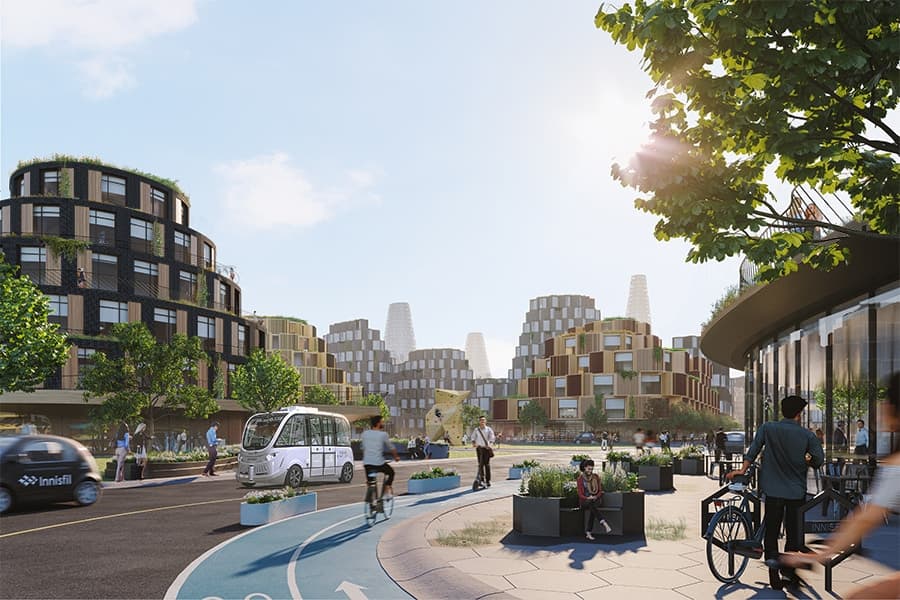 Introducing: The Orbit
The Orbit is a proposed city plan offered by the architecture group PARTISANS, and chosen by Innisfil's city council, to produce a vast smart-city connected to current-day Innisfil. The choice of location is a large currently empty space where a GO Rail station is planned to be produced, rather than a reconstruction of the town's current buildings, and also leaving most of rural Innisfil away from development.
The whole concept of the orbit is to build a brand new high-tech, eco-friendly city that brings in all of the lessons to be learned about making good cities. Its name comes from the plan for it to be built in a big circle around a planned GO Rail extension, that will connect Innisfil to the GO Rail Network and give its residents a reasonably quick public commute to Barrie, or a trip still feasible for GTA work down south.
It's all ultimately a desire to capitalize on the new station, create an economy for highly skilled people, and multiply Innisfil's population by up to four fold.
Innisfil Today
It will be an extension of the currently existing town of Innisfil. Today, Innisfil is a smaller town that tries to negotiate between being a tight-knit small town and a more rural, country community. It's at its most dense near the waterfront where one can find various homes and townhomes. The waterfront area has more of a service and trades industry. A lot of its businesses are in the business of building and selling houses, with many more integrated in that trade one way or another. New Homes in Rural Innisfil meanwhile are usually more upscale and are more linked to the economy of cities like Barrie.
Economy
Without a doubt, a city like this wouldn't just be another growing garden community made up of suburban homes and car-driving residents who go somewhere else to work. Rather, it'd be its own fully-fledged, high-tech city designed to attract businesses of all styles to give work to the Orbit and its surrounding area. In a kind of play on the word, an economy developed here would mean that the various other smaller towns in the region would suddenly become more enticing as places for people to live with the intent of doing their city and work commute to this new place. In other words, the various small towns in the rural area that Innisfil is part of would themselves become orbiting satellites of The Orbit as if it was a stellar body.
How Does The Orbit Plan to be a Smart City?
The term Smart City has been thrown around a lot in the past while, and there is a very long history of grand architectural ideas for how to build a city that's a better fit for an ideal human existence. Here are some of the details laid out by PARTISANS, the (literal) architects of the plan.
Roundabout City
The team behind this design, PARTISANS, plan on designing streets in a "squircle" style– halfway between squares or circles, if only we had a word for that which was easier on the tongue. In essence, the city is being built circle by circle around the Go Rail as its major public transportation hub. Different phases of construction are planned– it's not going to be a perpetual adding of layers onto an onion, but rather some blocks are going to be expanded one end into Innisfil, one end toward the country, etc. In short, the city won't be a perfect circle by its completion.
High-Tech Connectivity
Innisfil's leadership is already enamored by current modern trends, like for example its wholesale adoption of Uber as its public transportation service, and the fact that you can pay off your city services with bitcoin. The Orbit will be built from the beginning with high speed fiber optic cables connecting its buildings, so that every business and resident in any of these new structures will have access to super high speed internet. If the city follows some urban trends like in Korea, or several European countries, you could expect open-air free Wi-Fi in most of the city as well.
High-Tech Services
The city will be designed to facilitate self-driving cars, and there will be Drone Ports in the city as well. If Drone ports are anything like what's offered by the company Droneports, this would mean automated drones flying around with various jobs. From snapping traffic photos, helping the city spot fallen trees, to the most obvious role of handling parcel shipments in a smaller, city scale, there's a lot of opportunities for Drones to boost the economy of a city built with them in mind. Interestingly, articles have talked for a while about how the idea of adopting flying drones could mean designing buildings' architecture differently, making The Orbit a member of a new wave of architectural thinking in how to design city buildings. Think for example of light posts with drone landing platforms to wirelessly recharge before going on their way.
Health & Happiness
Last but not least, the plans for The Orbit are going to include some of the most important features of a community. Community centres and rec centres, a library, farmer's market and of course a school. What will be interesting to look out for is to see how the plans are going to utilize this high-tech theme to improve these kinds of services. Maybe you'll be able to rent a book from home and have a drone fly it to your condo window?
A second, major part of the health and wellbeing of a community is its walkability and general aesthetic. Living next to a busy highway or in the middle of busy urban living has pretty detrimental effects on the human body. The Orbit will plan to avoid building those health traps by making the city as green as possible, with as many avenues to take a stroll for leisure or to get to a place to earn or spend your money. Ideally, busses, bike paths, and walkways will join subsidized Uber rides in the list of ways to get to the train or your place of work.
What can an investor or future homeowner do now to prepare for this development?
Property in all towns that orbit the designated site for The Orbit will have their real estate prices uplifted by its development. Here's some recommended cities to look into.
New Condos in Barrie are affordable, and Barrie is already a fully fledged city in of itself with plenty of room to grow– its own borders continue to grow, and it benefits from the growth of its surrounding towns.
Pre-Construction Townhomes in Tecumseth are taking advantage of the community's large population, but is mainly a garden community for people commuting elsewhere to work– eventually, that "elsewhere" will be The Orbit.
Pre-Construction Homes in Bradford West Gwillimbury are taking advantage of the community's proximity to Highway 400 and 404, providing fast access north to Innisfil, or south toward Newmarket and the GTA.
Understand that this is a long term investment. The Orbit is not going to be a fully-fledged city by 2025, but the value of real estate in the whole area is going to rise the moment the first hole is dug.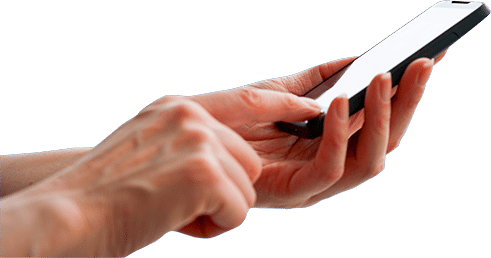 Register to get the latest info on upcoming developments
Connect With Us