Introducing Everwell Homes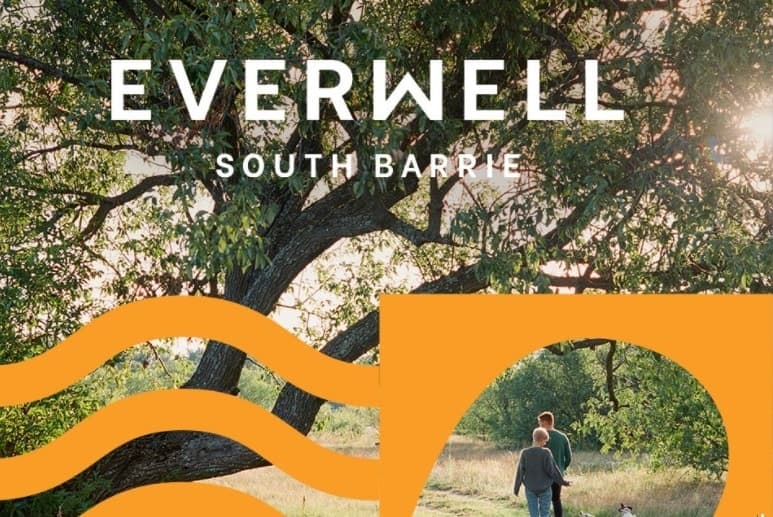 Everwell Homes is an upcoming community of single detached homes and townhomes. It will be located between Huronia Road and Lockhart Road, north of the Innisbrook Golf Course and surrounded by beautiful green space. It also has a nearby commercial centre with a variety of shops and services, large and small. 
It's a part of Barrie's southern residential expansion, resting on the southern edge where country meets city. Surrounded by fresh rural air, residents are able to live outside of the stuffiness of the city, with sweeping green vistas of open rural land available to them southward, with eastern roads taking them toward the lake and a large park. 
Types of Homes
Everwell Homes is made up of Pre-construction Homes and blocks of Pre-construction Townhomes in Barrie. 
The Single Detached Homes are separated into three categories: 32', 36', and 40'. They all come in a variety of designs that registrants can choose based on what kind of aesthetic they want for their home. 
32' Homes start at 1553 Sq. Ft. with the Simcoe style up to 2320 Sq. Ft. with the Ferndale corner home. There are 8 designs available at this range. 
36' Homes start at 1851 Sq. Ft. with their Parkview style and can range up to 2320 Sq. Ft. with the McKay corner home. There are 7 designs available at this range. 
40' Homes start at 2456 Sq. Ft. with the Victoria style, ranging up to 2696 Sq. Ft. with the Finsbury corner home. There are 5 designs available at this range. 
Standout Features
Superior quality architecture made with premium brick and concrete. 
Built-In Garages
Fully insulated construction
Luxury Bathroom features including freestand bathtub and/or separate shower stall.
Oak Staircase & Stained Oak Flooring, and imported ceramic floor tiles for kitchen/dining area & bathrooms.
Gas fireplace with decorative log set and remote ignition switch.
Integrated Smart Home incl. Door camera, water leak sensor, and thermostat.
Large walk-in closets for master bedrooms
Planned Location & Surrounding Neighbourhood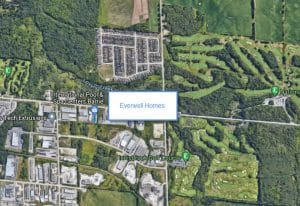 Everwell Homes will be located near the intersection of Lockhart and Huronia Roads. It is located on the southern edge of Barrie where other residential developments have a foothold. The beauty of this location is the large golf club running just south of the location, with plenty of forest and trail space moving north along the Lovers Creek. Just around the corner of this forestry is the big city, with a vast commercial and business center starting just west of the location.
The western shopping centre by Mapleview Drive and Highway 400 features a variety of small and large retail and service businesses.
Walmart
Costco
Sobeys
LCBO
Best Buy
Rona & Home Depot
And a variety of other smaller businesses ranging from auto parts, appliances, gyms, and a vast array of specialty stores and services.
In addition, a school is planned for construction right next to where Everwell's homes will be, in addition to land planned for residential space around it. In the upcoming years, this area will become a thriving neighbourhood. 
Driving Distances
Mapleview Commercial Centre/HW 400 entrance: 5m
Georgian College: 10m
Barrie Downtown: 12m 
Friday Harbour Park: 15m
Innisfil Beach Park: 15m
Vaughan: 40m
Downtown Toronto: 60-70m.
Between City & Nature
Living in Everwell will mean immediate walking distance to vast trails leading into dense forest and along a winding creek. Close proximity to the country will bring in fresh air from south, east and west. These homes are able to benefit from all of the amenities and services that are associated with city living, while being a close drive to the central core of the city. It has close driving access to nearby parks for when residents want to explore green spaces beyond the forest surrounding them.
More About Barrie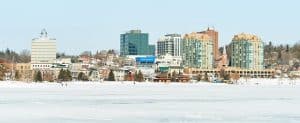 Everwell homes are one of a variety of developments that are expanding the southern edge of the city of Barrie. What is special about the city it's a part of? What are the advantages that residents of these new homes in Barrie will have?
Barrie's Location & Economy
Cities outside of the GTA have the unique challenge of carving out an identity for themselves, as well as an economy that can stand on its own. Barrie has succeeded in this, with a growing economy of its own. It serves as a major link between south and north Ontario. It's also only an hour away from Toronto, with a drive closer to 40 minutes to get to the edge of the GTA. It also has a GO Rail line travelling all the way through to Union Station, past Innisfil which has its own major developments planned. The future for southern Ontario is bright, and Barrie is at the helm.
Schools & Safety
Barrie has a very low crime rate, with a significant decrease since 2008 and continuing to trend down. Residents of Barrie respond positively to surveys about their safety. Barrie also has a variety of schools, high-schools, and post-secondary education opportunities. Between Laurentian University's Barrie campus, Georgian College, Lakehead and various Trade Schools, residents have various schools for their children to go off to.
City Entertainment
Barrie has a vast waterfront which makes for a variety of water activities, and a culture toward festivals near the marinas and of going out on the water on a rented or owned boat. Its downtown is filled with restaurants, shopping opportunities, art galleries and museums. Throughout the city are numerous parks and trails, including just next to Everwell Homes' planned location.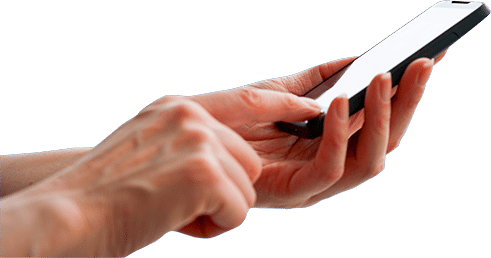 Register to get the latest info on upcoming developments
Connect With Us